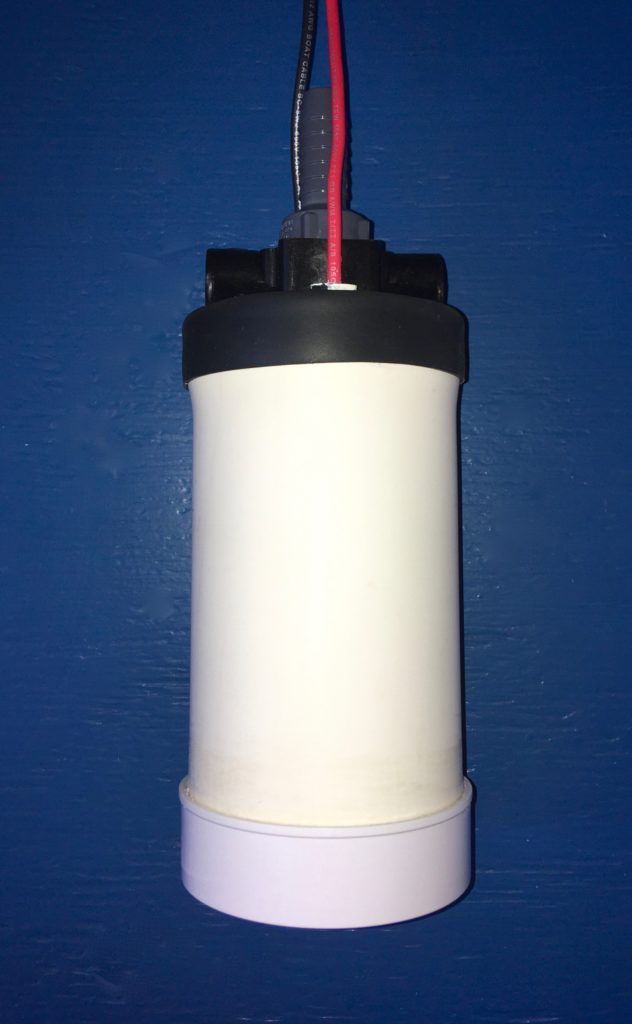 The V3 Nemo Submersible DC Well Pump from NemoSolar is a complete ready-to-install DC powered submersible well pump. It features a super-watertight corrosion and rust proof PVC case specifically designed for and fitted to a Flojet motor and Flojet duplex diaphragm pump head. This combination results in a high quality, energy efficient, and exceptionally cost-effective submersible well pump unit with a wide range of applications.
Nemo Pumps are completely assembled in USA (not Shurflo knockoffs from China) and are available for immediate shipment directly from our manufacturing facility in Maine USA. Our pumps have been distributed worldwide for over 25 years and are backed by our full service NemoSolar website that covers every aspect of installation and use plus prompt unparalleled direct access to our customer service representative before, during, or after purchase and installation.
SPECIFICATIONS: THE NEMO MODEL # V3 SUBMERSIBLE WELL PUMP measures 10″ high X 3.75″ in diameter, and weighs 4.5 lbs.
The NEMO V3 case features the following industrial quality components:
CASE: The V3 corrosion and rustproof Nemo PVC case fits 4″ or larger wells.
MAIN CASE SEAL: Compression fit PVC junction reinforced with marine adhesive sealant.
WIRE LEADS: 7″ color-coded 12 AWG vinyl insulated stranded copper. Each pump includes a set of sealant filled crimp connectors and heat shrink tubes for connecting pump leads to drop wire.
INTAKE FILTER: Inlet port with 20 mesh stainless steel filter.
DISCHARGE FITTING: 3/4″ Threaded X 3/4″ Barbed Adapter fits 3/4″ flexible pipe or tube. 
FLOJET pumps used in Nemo Submersibles feature industrial grade head/motor units with the following specifications:
MOTOR: Low current draw permanent magnet, ball bearing drive, 2,000 hour brush life.
PUMP HEAD: Positive displacement, duplex diaphragm design tolerates passage of small foreign particles and can be run dry without damage.
PERFORMANCE: Typically 1 to 2 GPM depending on lift height (head) and operating voltage. Maximum head is rated at 230 feet. All models, the 12 Volt DC, the 24 Volt DC, and the 115 Volt AC/DC, have the same performance characteristics and GPM delivery rates.
POWER DRAW: Typically 50 watts – 100 watts depending on depth of lift.
AVAILABILITY: Pumps are normally always in stock for immediate shipment. A full refund and cancellation of order is instantly available if an item is not in stock or if for any other reason your order cannot ship within 48 hours or two business days.
$220 POSTPAID TO USA.
$260 POSTPAID TO CANADA
$280 POSTPAID WORLDWIDE
(Each pump includes a set of sealant filled crimp connectors and heat shrink tubes for connecting pump leads to drop wire.)